Friday, January 27, 2012
Thursday, January 19, 2012
So we are learning arrays this week in math and next week... multiplication. Today we watched a quick You-Tube video over arrays. Simple and sweet. After that we made these beautiful creations.



Then we watched this
little multiplication video
too!
I printed these lovelies for my kiddos this week. Just a little cheat sheet action.
Multiplication bookmark freebie
made by: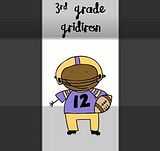 Click above for more multiplication resources!
Happy Thursday!
Posted by Courtney @ Missthirdgrade.com at 9:00 AM 6 comments
Labels: Math, multiplication, YouTube
Wednesday, January 18, 2012
Tuesday, January 17, 2012
Friday, January 13, 2012
Monday, January 9, 2012
Saturday, January 7, 2012
Friday, January 6, 2012
Thursday, January 5, 2012